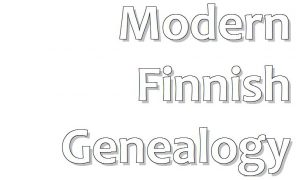 With new research, information, and technology as well as all of the new resources available online, it is time for a new Finnish genealogy reference book: Modern Finnish Genealogy.  Anticipated now in Spring 2019, this new reference is the culmination of extensive personal and professional research since 1978.
Using modern QR ("Quick Response") code technology, this book will connect interactively with this website.
by Greg Isola, genealogist
independent Finnish researcher
President/Partner, Finnesota LLC
Book outline:
High-level sections*

next-level sections will be added*
Dedication
Preface
Notations
Table of Contents
Genealogy

General issues
Relatives
Generations
US Federal Census Records
State Census Records
US National Archives
Family stories
Filing systems
Ancestor Cards
Software/Online

Finland

History outline
Identity
Finnish-Americans
Finnish-Canadians
Church history
Tornedalen
Kven
Swede Finns
Forest Finns
Saami
Karelians
Ingrians
Estonians
Finndians
Russian ancestors
Nobility
Old inheritance

Emigration and Immigration

Definitions
Who, when, where
Migration Institute
Tornedalian Emigrant Database
IHRCA
FAHC archives

Languages

Finnish
Swedish
Others in the records
Norwegian
Family and genealogy terms

Who? Names
What? Records

Forms: Lutheran Church of Finland records
Where to find

When? Dates
Where? Places

Finnish historical administrative structure
Borders prior to 1809
Place names
"In" or "at" a place

Why? Reasons
How? Strategies in researching
DNA
Bibliography
< *all details subject to change at any time without notice

Anticipated in Spring 2019.
Published by Finnesota LLC.
Printed at TheBookPatch.
QR codes created at QRStuff.
[about QR codes: what are they? and good information in a blog]
Permanent MartinTM Internet short links on the premier domain gene.mn provided as a service by Finnesota LLC.
Current plan: 8.5" x 11", color cover, B&W content, perfect bound.
Final number of pages as yet undetermined.
This book project is made possible with the support of a generous 2017 grant from Finlandia Foundation National.

Updated 29 Apr 2017, 31 Aug 2018